I know that what you've read on my website so far resonates deeply with you, and now you're wondering how it all works and how will it work for you. We all want to be free from the pain of the past and I could honestly write pages and pages about why this works, but no one wants to read pages and pages…
So after you've taken a look at this page, the easiest thing to do it to book a completely FREE Breakthrough Clarity Session with me and let's figure out if we're a perfect fit to work together…
I do however want to give you a little insight into what I know sounds too good to be true… I want you to know that it has become my life's mission to help people like you who are ready to become the very best versions of themselves or haven't yet found a way to be free from the inner-turmoil created by traumatic and emotional life circumstances.
Perhaps, like me, you've tried the medication, the counselling, the 12 steps recovery programme and though they've helped to a degree, they haven't solved the problem.
Because I'd experienced so much trauma myself, life was incredibly painful in many ways for the majority of my life. Through my refusal to accept the cards I was dealt and my insatiable desire to be truly happy I discovered methods and techniques that helped me heal from the pain of the past and align my life with my true purpose and calling.
Then I learnt all that I could about Personal Transformation, human behaviour, psychology and some of the most advanced and current revolutionary therapeutic intervention techniques available. I've spent years testing and applying my work with myself and working with clients and have now narrowed it down to the most effective components that deliver the deepest and most impactful transformations possible.
As a result of the work, research, personal development and honing and crafting my skills, I've created the…
EMC2 Personal Mastery Transformation Programme™
Through all of the work and research I've done I identified that there are 3 key areas, that when you work on them and bring them into alignment, you achieve what I call Personal Mastery.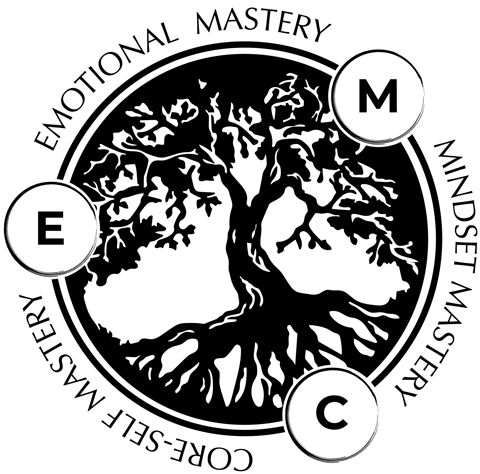 Emotional Mastery | Mindset Mastery | Core-Self Mastery
When all of these areas of your life are cleared of the clutter from the past and aligned, everything else falls into place.
There are 3 very clear stages of the Process
1 – Mindset Mastery – A Process of Deep Discovery
During this part of the Process:
We'll explore and understand the causes of the problem

You'll be guided through tasks that help to get rid of the problem and create positive changes

You'll start noticing obvious and undeniable positive changes right away

During each session you'll receive laser focused feedback to help create more positive changes

Together, we'll develop easy steps for the positive changes to occur and for your outcomes to be achieved

You'll learn how to communicate with yourself in a way which I believe is absolutely essential for Personal Mastery

We'll begin to uncover the emotions at the root of the problem so they can finally be resolved, once and for all

We'll begin ungluing the glue that held the problem together so that we can get rid of it completely!
2 – Core-Self Mastery – A Process of Self-Exploration
During this part of the Process:
You'll get to know yourself more deeply than ever before

We'll uncover aspects of the problem you didn't even know existed

You'll understand why you have remained stuck for all these years

You'll discover how to get unstuck and get moving forward

You'll see the solution and end goal become crystal clear and achievable

You'll realise how deeply you are able to be in charge of your life in all areas

You'll experience parts of the problem beginning to fade away and disappear altogether

You'll develop the most profound sense of self-appreciation and self-love
3 – Emotional Mastery – A Process of Transformation
During this part of the Process:
We'll clear limiting beliefs and any remaining emotional turmoil

I'll assist you in letting go of anxiety and other limitations

You'll discover a new and incredibly peaceful and happy way of life

I'll help you to create new behaviours and beliefs to replace the old unresourceful ones

I'll guide through processes so that you can let go of painful emotions from the past, such as anger, sadness, fear, hurt, guilt and shame

You'll have an undeniable experience of clearing out the mental clutter, baggage and pain that
you've held onto

You'll experience the transformation in an undeniable way!!
You will be supported and guided every step of the way!

Emotional. Mindset. Core-self. Alignment and Mastery of these 3 key areas will result in an undeniable experience of your life transforming in ways that previously you had only dreamed of.
3 simple steps… so easy when you know how.
What results can you expect?
After the completion of the "transformation work", there will be a process of integration, which involves allowing the changes to settle and the integrations of the new behaviours to occur.
You will notice with some surprise, that memories from the past that used to trigger a particular unwanted emotional response (such as anger or sadness) no longer have any impact on you.
You are empowered and in control of your emotional state. You will have discovered a new-found confidence and clarity of who you are.
With this renewed and invigorated sense of "self" you will have become the person you want to be in the world, ready to step into your purpose with confidence and happiness.
Now you can embrace being the best, most empowered and authentic version of you!
Please understand, following your journey to Personal Mastery, you will still be able to experience emotions of anger, sadness, fear, etc. but not with the emotional charge that they used to have because the chain of emotions to events in the past is cleared.
So What Now?
If what you've read is already screaming at you telling you, "This is for YOU!", let's jump on a call and we'll figure out the plan that's best suited to you.
Can't wait to speak to you…
If you want know more about working with me to really ready to up-level and transform your life, read on below to find out more about the options available for this level for transformation…
The Emotional Mastery stage of the process is where I use the most highly effective and leading edge therapeutic interventions to assist in your Personal Transformation. 
When we get to this stage of the process, you will have experienced a deep level of self-awareness and will have begun to know and understand yourself more deeply than you ever dreamed was possible. The Emotional Mastery stage is where we up-level by removing the remaining blockages and limitations preventing you from fully stepping into the person you know you are capable of being. 
Some people like to get this part of the process completed at a rapid speed, so that they can experience the transformation quickly, where others like to take their time and see the changes taking place over a period of time.
The choice is yours, and it really is about what works best for you and how quickly you want to experience your life transforming. We can chat about all of this when we speak on the phone and if you're not sure, I'm happy to help you discover which option will work best for you.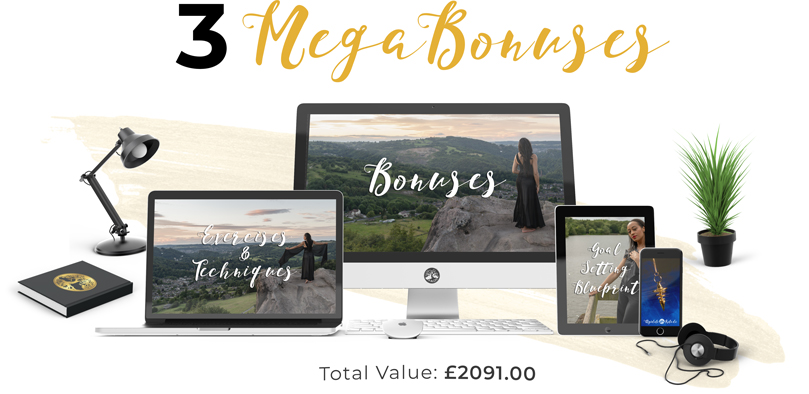 3 MEGA BOUSES
Numerous personalised exercises and techniques for your future use – Value £1497

Proven goal setting blueprint to help you set future goals so that they come true – Value £197

Personalised hypnotherapy recording at the end of the transformation work to support your ongoing personal development journey  – Value £397
Total Value: £2,091.00
MONEY-BACK GUARANTEE – If you work with me and you do not achieve the results we agreed we would achieve together, you will get your money back in full!
(Payment plans are available)
Click the button below to schedule your FREE Breakthrough Clarity Session with me and we'll discuss all the details and if necessary, work out a payment plan to make this an easy option for you to completely transform your life, freeing you from the pain of the past and inner turmoil, clearing out the mental clutter and giving you the self-belief, confidence and happiness so that you can become the best and most authentic version of yourself!
Circle of Personal Mastery Group Coaching Programme Coming Soon!
Register your interest here to be the first to find out more…