If you're good supporting people and know how to assist people in really transforming their lives, Coaching can be an incredibly lucrative and rewarding career and you can make a shed load of money doing what you love – helping people. 
Perhaps Coaching is something that you already do, want to do or want to learn more about. And if you already are a Coach, it's likely that to you it's more than just a trend that has recently gained momentum. 
Having a genuine interest in Personal Development is something that inspires people like you to attend an event like this and to want to know more about what is available and to learn about what is possible in this growing and impactful field of expertise. 
If you've thought about becoming a Coach, are interested in Personal Development, or already are a Coach and want to expand your skills, we want to see you there.
Whether you're new to this or a "seasoned" Coach, there's always more to learn and there's DEFINITELY always more to learn about yourself.
Knowing what causes you to choose to do the things that you do will help to develop a greater understanding of yourself and others. 
This understanding leads to being a better Coach. 
The more deeply you know yourself, the more deeply you can know others and help them.
"Despite how open, peaceful, and loving you attempt to be, people can only meet you, as deeply as they've met themselves. … ― Matt Kahn
The reverse is also true; you as a Coach, can only meet your clients as deeply as you've met yourself, so you should always be looking for ways to continue your Personal Development, for both yourself and those you serve.
Which is why we want to see you at the Coaching Skills 2.0, a 2 day Live Event on Saturday 1st and Sunday 2nd February 2020
As a Coach (or aspiring Coach), it's very possible that you've had your share of pain and trauma in the past; this is generally what MAKES a great Coach, because you relate to the pain your clients share with you. It's also ok that you still haven't figured out how to fully overcome past experiences, but know you want to so you can help others even more deeply.
That's why this event is for you, as you'll be introduced to revolutionary new techniques and methods of Coaching that will help you as well as your clients!
Let me ask you a few questions… 
Are you currently working in a job that is unfulfilling, or only partly fulfilling? 
Do you know that you could do and be more, have more, help more? 
If you answered yes, then Coaching Skills 2.0 is for YOU!
Especially if you're not earning the money you're worth, not getting the acknowledgement you deserve and not seeing the results with your clients that you know are possible.
This event will open your eyes to what is possible…
If you're the kind of person who sees the suffering of people but also realises something is lacking in the world when it comes to really helping people overcome their challenges, now is the time to disrupt that and discover new and mind-expanding methods of transformation.
For 20 years I've been teaching, supporting, educating and now Training others in methods to transform their own lives and the lives of others. I am so incredibly passionate about what I do and the methods I teach because they are the methods that have helped me not only transform the lives of hundreds of other people, but they are the very methods I used to transform my own life. 
Now, we're not talking about the way everyone and their grandma are coaches. No. 
We're exploring a unique skill set that produces immediate and undeniable change and transformation. 
Attending the Coaching Skills 2.0 will be like attending an event with the Wizard of Oz, where we're pulling back the curtain and giving you the opportunity to discover what is possible for you if you want to become a certified Coach. We'll share secrets and insider knowledge and give you the opportunity to learn more about yourself, gaining new insights and understandings.
Over the 2 days of the workshop and seminar, you'll gain a clear understanding of what Coaching is as well as learning some of the fundamental elements of Coaching and be introduced to some incredibly powerful tools and techniques to use in a Coaching setting, including Neuro-Linguistic Programming (NLP), Hypnotherapy and Creating Your Future® Coaching processes.
If you want in on this incredible event, buy your seat today!
Coaching Skills 2.0, 2 day Live Event on Saturday 1st and Sunday 2nd February 2020
So I guess we'll see you there.
Unless of course, you're quite happy to  continue doing what you're doing, not getting results, still feeling infuriated and disillusioned about life and the outcomes you are getting and that others are getting. Going to the same job without exploring other avenues and possibilities, yet still feeling frustrated and disappointed with your lot…
Nah, didn't think so. Doesn't sound like much fun does it?
So we'll see you there and I look forward to sharing my secrets with you and letting you in on the best ways to help you help others and help yourself too.
Buy now
Coaching Skills 2.0, 2 day Live Event on Saturday 1st and Sunday 2nd February 2020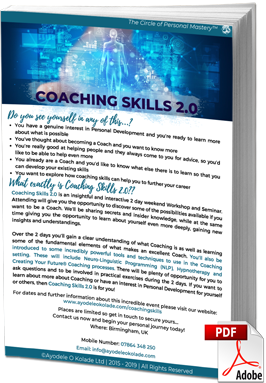 Click the button below to download our
coaching event leaflet